The Barbara Bartell Memorial 5K Runday
Saturday, May 24, 2014 at 8:30AM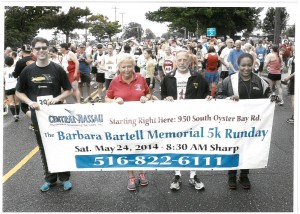 This exciting annual 3.1-mile U.S.A. Track and Field sanctioned run begins at 8:30 AM outside our offices and continues through the streets of Hicksville and Bethpage. The flat course 5K run is open to participants 12 years of age and older. In addition, a Fun Run course is available for children up to 12 years of age. All Runday participants receive a commemorative Runday t-shirt, free refreshments, computerized finish times and an opportunity to win one of twenty-three awards, trophies, and/or certificates. Central Nassau's 5K Runday event is part of the Long Island Grand Prix series of running events.
Whether you are a runner or not, you can get involved and help rebuild someone's life! Donations will provide essential, unrestricted funds for our programs and services.
Sponsorship opportunities are available for businesses and individuals as well.
If you would like more information about sponsorships, advertising opportunites, or for race applications, please call Erin Smalley at (516) 822-6111 x265.
Thank you to our Sponsors:
M&T Bank
Alcott HR
JMS Management
LMJ Contracting
Mark Seiden
Watral Brothers
The B&G Group
Nawrocki Smith
A&M Horseblock Rd. Assoc.
New York Paving
AWS Mechanical Corp.
S.A. Elite
Bravo Construction
DF Stone
Envirotrac
A Women's Way Gynecology
Iseman, Cunningham, Reister & Hyde LLP
O'Brien Drywall Unlimited, Inc.
Uncle Wally's LLC
Tomco Painting
TLA Contracting
Pyramid Air Conditioning
Allied Service Systems
Mark Manley
Stifel Nicolaus
Monahan & Company
Superior Air
P&W Electric
Advanced Flooring
McKeon Door Company
Utility Enterprises
Wilbur Kranz
Thank you to our In-Kind Sponsors:
Crystal Springs Water
Farmingdale Beverage
Broadhollow Theater Company
TGI Friday's
Mary's Pizza & Adam's Ribs
Panera Bread
Adventureland
Moe's Southwest Grill
Runner's Edge
Sayville Running Company
15th Annual Golf Outing
Monday, July 21, 2014
Thank you to all who made this year's golf outing a great success!
Special thank you to John Thomas for the fantastic photos.
This exciting event is held at The Town of Oyster Bay Golf Course on Southwoods Road in Woodbury and includes lunch, a cocktail reception, a buffet dinner, and a chance to win numerous raffle prizes.
Our Golf Outing provides essential funding to Central Nassau Guidance & Counseling Services and over 2,000 children, adults, and families we serve annually. Even if you are not a golfer, you can participate by making a donation.
For more information, please contact Sharon Bohen at 516-822-6111 x229 or Erin Smalley at 516-822-6111 x265.
Thank you to our Sponsors:
Alcott HR
Wilbur Kranz
Edwin and Shirley Woldar Family Foundation
Focus Rx
Urban Digital Solutions
Utility Enterprises
Empire National Bank
Executive Planning Group
M&T Bank
Mutual of America
W.M. Brown Group
The Law Offices of James F. O'Brien
REM Services Corp.
Great Eastern Management
Lorenz Schneider
8760 Inc.
Tusa & Associates CPA, P.C.
Ocean Printing
Capital One Bank
Cullen and Danowski
Mitropoulos Architects
Write It For Me, Inc.
Thomas Dillon
Conde Boyce, LLP
Strike Force Cleaning
Irwin Contracting
Presto Garage Door Company
Universal Plumbing
Giannini Landscaping
Bravo Construction Corp.